NEW DELHI: The Belgium tour produced five consecutive wins. The India men beat reigning world and European
hockey
champions, Belgium, thrice. Sandwiched in between were two wins over Spain, runners-up from the European Championship. That should build any team's confidence ahead of the Olympic qualifiers. But according to coach
Graham Reid
, "the biggest takeaway" from the tour is a new overseas training feature introduced by him, which has added valuable feedback for his staff to work on.
During their two-week stay in Belgium, the Indian team made a trip from Antwerp to Arnhem in the Netherlands, a drive of just over two hours, to train with the Dutch team at the Papendal Sports Centre — a completely new concept for captain Manpreet Singh and his boys.
Reid, who took over as India's head coach in April, worked on this joint-training feature during his days as an assistant coach of Netherlands, when he used to work under Max Caldas.
"I don't think the boys have ever done that (joint training) before. When I was with the Dutch team, we did that with a few different teams last year before the World Cup," Reid said, talking to Timesofindia.com from Goa, where he is enjoying a holiday with his family.
HOW DOES JOINT TRAINING HELP?
The basic purpose of a joint training is to compare the numbers that a top team achieves during training with your own. It's done with the help of the GPS device that players wear between their shoulder blades on their backs.
It connects the receptors with GPS and picks up numerous variables, like total distance covered by the player, the intensity, sprint distance, decelerations, etc.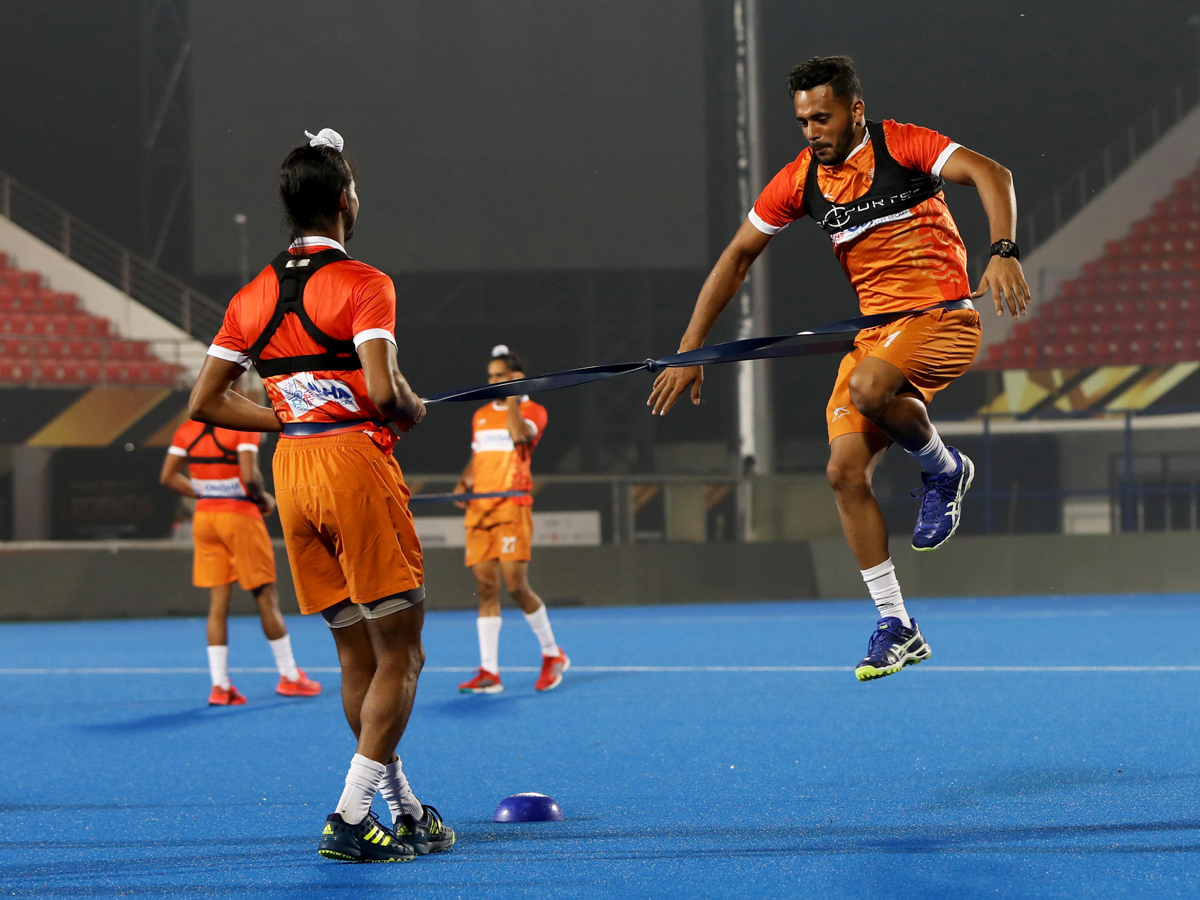 Photo: Hockey India
"We had GPS numbers from our internal training and compared those to the numbers that we achieved while training with the Dutch (team)," Reid explained.
"It means that we can now show the players that this is the sort of level that we need to be training at back in Bangalore. For me, that was the best takeaway." Reid explained.
WHAT DID THE GPS STATS COMPARISON SHOW?
The fitness of Indian players has improved immensely over the last five years, thanks to Hockey India's scientific advisor, Robin Arkell, who also mans India's GPS set-up, and physiotherapist David MacDonald.
Reid, however, didn't elaborate much on the comparison of numbers achieved during the joint training at the Papendal Sports Center, which is the largest sports training center in the Netherlands.
"It was more the levels that both teams would have been training at, and I am sure it's probably the same with the Dutch as well.
"We train like our normal training and, of course, because I have worked with Max (Caldas), I knew some of the exercises that we did, and there were new ones in there as well," the Australian said.
Reid emphasized that it's not only the number-comparison that you get from a joint training session, but also the tempo of training, which goes up a few levels with "little battles" involved.
"When you train with a different team, you increase the tempo because you don't want to lose and fight every little battle that you have during training, everything is at a tempo higher than it might be when you are training among yourselves. That was really good," he added.
THE OTHER POSITIVES
India defeated Belgium 2-0 in the opening match of the tour, though it was largely an inexperienced team fielded by the world champions, with many of their first-choice national players missing. Belgium have already qualified for the Olympics as continental (Europe) winners.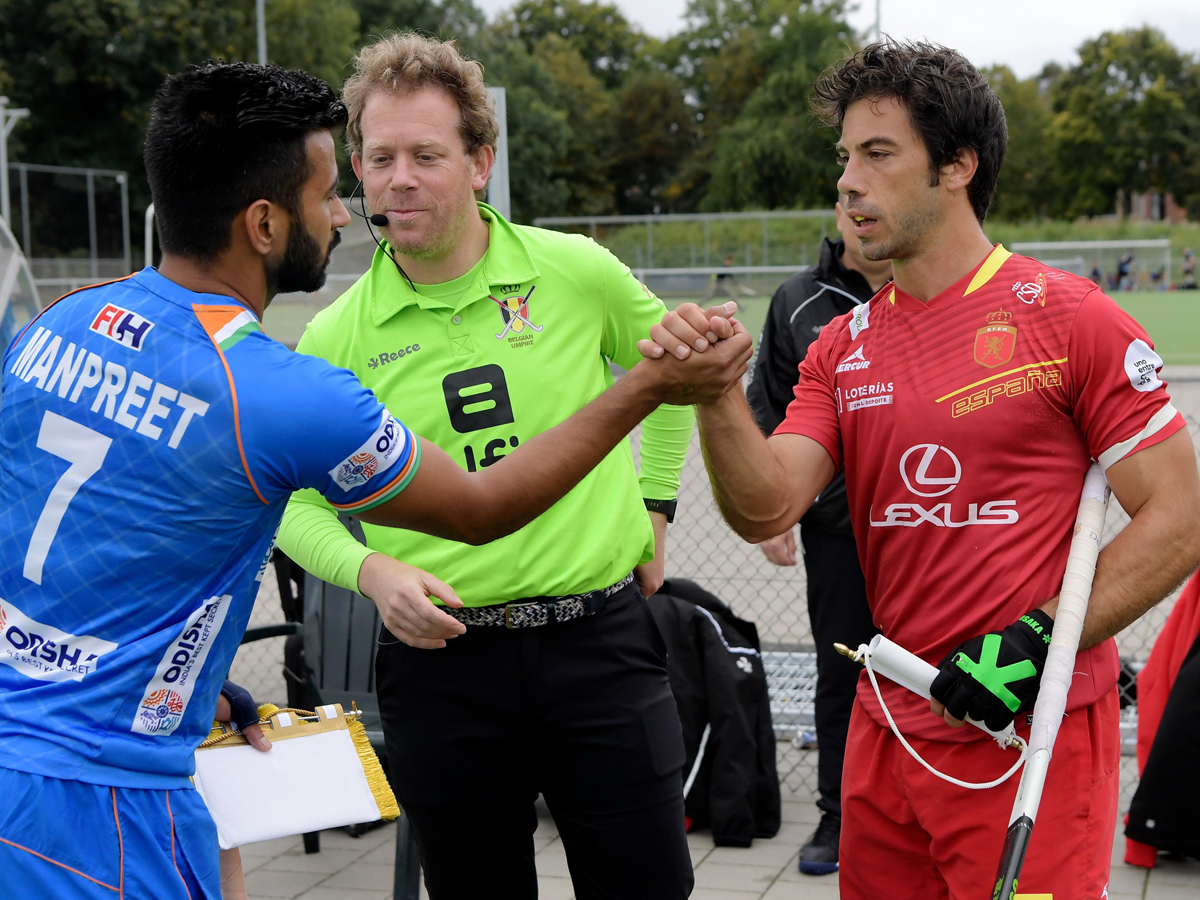 Photo: Hockey India
Spain, however, were at full strength trying to tune up for their Olympic qualifier against France. India thumped the Spaniards 6-1 and 5-1 in the two meetings, before defeating Belgium again, 2-1 and 5-1, in the last two matches of the tour.
"The tour was really good. Our preparation was very good but, of course, you never know at what level the team is at until you play against teams like Belgium and Spain. So it was very pleasing to go there and find that level," said Reid.
"What I also liked was that we were able to score a good mixture of penalty corner and field goals; and if you want to compete at the highest level, you need to have that mix as often as you can because, as we know, sometimes one or the other doesn't work; and when they do, you are very difficult to beat."
In about three weeks, on November 1 and 2, India will host 22nd-ranked Russia for their two-match Olympic qualifying event in Bhubaneswar. The winner of the series goes through to play the 2020 Olympics in Tokyo.